Designing the ideal sound system for your space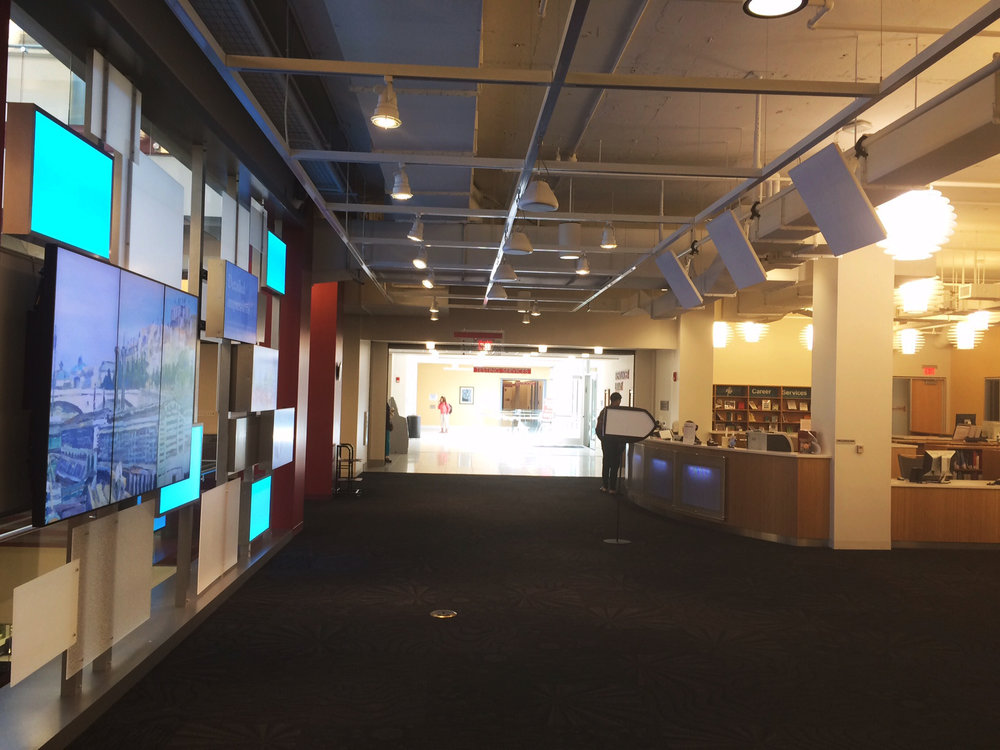 Speakers
Commercial Speakers. In most commercial environments 100Volt Line speakers are specified. Although these speakers are often outwardly identical to standard speakers, 100Volt Line speakers have an integral step down transformer built in, and allows the 100Volt amplifier to drive many speakers daisy chained together, this provides an even spread of sound, and also allows long cable runs without the resistance, or losses as can be found when using normal 4, 6 or 8 ohm speakers and amplifiers with very long cable lengths.
Powered speakers are another alternative typically used in larger spaces, or for portable solutions. These speakers have an amplifier built-in to the cabinet of the speaker.
ProVision can help you select the best speaker type for your space, with In ceiling, In wall, Wall mounted box style, line array, floor standing, Subwoofer, portable and even outdoor options available.
Amplifiers
Mixer Amplifiers - Typically used in training rooms, a Mixer Amplifier allows one or more Microphone system, and background music sources to be mixed together, with levels being able to be independently adjusted on the front panel of the Amplifier. In larger venues a Digital Sound Processor or DSP is used in place of a Mixer Amplifier to enable better and easier control of the sound inputs.
Switching Amplifier - In some spaces sound is required from one source at a time, this would be used in situations such as a cafe, where the manager plays music from a Computer sometimes, but also wants to be able to switch to listen to Radio, Sky T.V. or an iPod.
Power Amplifier - This type of amplifier is typically used in larger rooms where there is also a Digital Sound Processor in place providing the mixed /switched and equalized audio to the Power Amplifier, or a Mixing Desk as would be used for a live event. There are also some situations typically a smaller room where a small Power Amplifier can amplify the single audio output of a Projector to provide better volume into the room.
AVR - An AVR or Audio Visual Receiver is typically used in a living room or home theatre situation, It allows Display signal inputs using HDMI connections from DVD Players, MySky Boxes and Apple T.V. for example to be plugged in and provides an output to the flat screen and or Projector while processing and amplifying the sound to multiple Speakers.
Digital Sound Processors
In a room or space where there are multiple sources of Audio and the user requires the best possible sound a Digital Sound Processor ensures the optimum outcome.
For Video Conferencing a DSP with the Echo cancellation feature helps to eliminate this common problem.
Where an Audio Visual system is being controlled using a control system such as AMX or Crestron, the DSP will handle the switching, mixing and equalisation of the audio.
In larger spaces a DSP is often used to stagger the audio timing of the speakers, so that the audience at the back of the room receives the same clarity as someone at the front, in all cases the DSP is programmed specially for the room by a highly qualified sound technician.
Microphone systems
Most training rooms and larger auditoriums require wireless and or lecturn style microphones to provide clear audio to all of the audience. Provision can help you to find a solution either wired or wireless (or both) that will work well in your space and budget.
NZ recently has had changes of the Radio Frequencies allocated for Cell phone and Television stations etc. These changes have affected many existing Wireless Microphone systems making them unreliable and in many cases redundant as they now operate on the same frequency as other stronger signals, Manufacturers of good quality Wireless Microphone equipment are well aware of the new Wireless landscape and are able to work in the narrow frequency windows left.
Hearing Loop
An induction loop, or Hearing loop is an electromagnetic system consisting of a special amplifier and induction wire that transmits audio to hearing-aid users.